Fragrances for Living Blog
An Interview with The Aesthetic Minimalist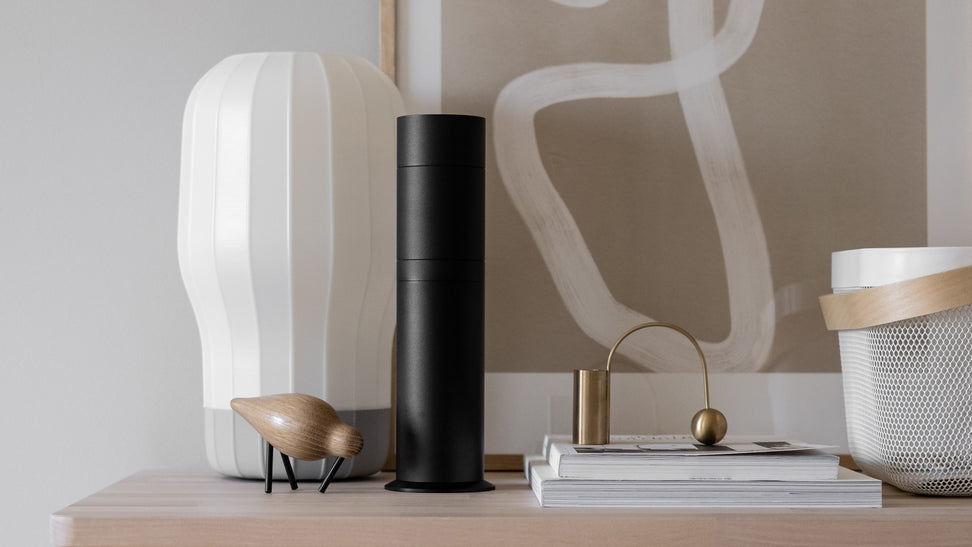 At first glance, an oversimplified definition of a minimalist might be a person whose preference is to move through life with few material goods. A trend made even more culturally relevant with the popularization of documentaries like Minimalism: A Documentary About Important Things, or books like Tidying Up With Marie Kondo, many have come to believe that becoming a minimalist simply requires decluttering and downsizing.
But often overlooked by many when talking about minimalism is the thoughtful intent that goes into committing to this way of living. Living minimally is a choice, and one that is motivated by a strong and persistent purpose, rather than the simple need to declutter.
Amidst the era of social media and all things digital, North Carolina-based content creator, Val Lin has made his mark as the mastermind behind the personal brand, The Aesthetic Minimalist. Using his formal education in user experience (UX) and graphic design, Val has found great success in applying a minimalist approach to his passion for fashion and and elevated life.
Known for his highly visual, minimal aesthetic, Val has established himself as an influential voice in the lifestyle category. We were lucky enough to have had the chance to sit down with Val and to pick his brain on a variety of topics. For more insight into his preferences when it comes to fragrance, home scenting, and design, and why certain products resonate with him more than others, read on for our interview.
Our Q&A with Val
AromaTech: Does fragrance play an important role when traveling and visiting new places?
Val Lin: Absolutely, I find fragrance to be especially important in this regard. Fragrance has a really unique ability to not only help us recall certain memories, but to enrich them. In fact, whenever I visit a new place, I will intentionally select a particular fragrance to accompany me throughout my journey. That way, anytime my nose picks up on that scent - even if just slightly - it unleashes an unexpected but welcome rush of emotions, and augments my memories of that place for many years to come.
A: What is the first thing you look for in the products you use?
VL: Like many people, I am visually drawn to things. So for me, when I browse a new product line and go through the process of vetting them, design is the first aspect I consider. Perhaps unsurprisingly, as a designer myself, I have a profound appreciation for the time and effort that goes into producing great design. If you really take the time to consider the form, the features, the choice of materials and usability of a product, it really is quite outstanding how crucial of a role design can play in elevating a brand, but also in customer awareness and loyalty.
A: What kinds of aromas are you usually drawn to, and why?
VL: If we are talking about interiors, I tend to go for fragrances that are simultaneously subtle yet robust. For cosmetic purposes - as in, in a perfume - I prefer scents that are more woodsy and grounded, but also subtle and long-lasting.
A Suggests: Aromas that work for these preferences are the Zesty Champaca aroma oil - a dynamic blend of lemongrass, freshly cut champaca leaves, and rich cedar wood. It is both refreshing and a little bit sweet, which really helps set a baseline for ultimate relaxation. For a more woodsy aroma, something like the AromaTech Santal aroma oil - a fragrance that is all at once musky, leathery, smokey, and even a little bit sensual. It is bold and intoxicating, recreating the somewhat mystical ambiance of an open fire, deep in the woods.
A: Tell us about your experience with using AromaTech's nebulizing diffuser.
VL: What I have noticed about AromaTech's products is how brilliantly the nebulizing diffusers distribute the aroma oil fragrance across a room or space. I have an AromaTech nebulizing diffuser set up in our downstairs living room and no matter where you stand in relation to the diffuser, you can tell that the scent has been distributed so evenly.
I also really like the technology elements that are embedded into the nebulizing diffuser - like in the AroMini BT. It makes a huge difference to have such detailed control over the intensity of the fragrance output at any given time, as well as the ability to determine how often I want it to release the fragrance into the air. All of this is so easily adjustable through the device's Bluetooth setting.
Also, as you now know, I am really motivated by design, and so the sleekness and minimalist aesthetic of AromaTech's diffusers are another value-add - at least in my eyes - to the product. Not only is it effective at doing what it is supposed to do; it also looks really good in my living room.
A: What is your favorite fragrance from our collections and why?
VL: Currently, it would have to be the White Tea aroma oil. We are currently using this aroma oil in the AromaTech diffuser we have in our living room. What I enjoy about this particular fragrance is that it is not overpowering. Genuinely, in my opinion, it is a blend that you can tell was created with thoughtful intent, and has just the right intensity for a medium-sized space.
Also, because its fragrance notes are a slight departure from the materials that make up our living room space - namely the wood and leather elements of our furniture - it ends up adding an extra dimension. With its refreshing qualities and sweet notes - the perfect infusion of white tea, rose, zesty oranges, sweet geraniums, Palo Santos, and cedar wood - it also brings some depth and an unexpected accent to the room.
Thank you to Val for sparing some time to talk through some of our favorite topics - fragrance and design. If you want to follow along with Val and stay apprised of what is to come via The Aesthetic Minimalist, give him a search and a follow on Youtube and Instagram.